Waterproof plastic pants & rubber pants.
Plastic pants and rubber pants. Most of our customers require, on occasions, the additional protection of waterproof plastic pants or rubber pants. These can be used to provide additional confidence on long journeys, during long meetings, or when sleeping away from home when it may not be possible to place a waterproof sheet on the bed. All of our waterproof plastic pants are manufactured from special medical grade vinyl ensuring softness and increased hygiene. We also stock traditional natural rubber pants. These are displayed in our on-line shop.
Follow this link to purchase any of the items shown on this page securely on-line or to view our latest range of plastic and rubber pants.
| | |
| --- | --- |
| | |
| SPHW & NEW SPLW | SPPN |

These low-cost plastic pants are ideal for use over our absorbent underwear and pads, or over disposable nappies (diapers) when additional protection and confidence may be desired, such as night-time use and on long journeys. Although low in price, both styles feature welded side seams, wide 8 mm elastic and front facing leg openings, offering increased comfort and a quality fit. The elastic is fully encased to prevent wicking and protect against wet spots on clothing and bedding.
NEW Our SPHW and SPLW pants are manufactured from an ultra-soft and silent, smooth white vinyl. Even when worn under a skirt, you can feel confident that there will be no tell-tale rustle, unlike many high street pharmacy brands. In response to our customer requests, these popular white pants are now available in two styles, high waisted for ultimate protection (such as night-time use) and a new low waisted style for cooler day-time use and wearing with low waisted skirts and trousers.
Our SPPN pants are high waisted and manufactured from an extremely soft and silent transparent vinyl, which allows the wearer or carer to check for wetness without having to remove the waterproof pants.
The sizing of the SPHW, SPLW and SPPN pants is based on a fairly close-fitting over normal underwear containing our terry towelling pants, a pad or a disposable nappy. If you intend using the high waisted pants with terry nappies (diapers) we recommend that you measure your hip size over your diaper and select the required size from the table below.
Please note that stitched vinyl will tear if over-stretched and only has a limited life. Bath oils and creams will react with the natural oils in the material and cause it to harden. For further details, see our FAQ page.
Side-snap waterproof vinyl plastic pants.
New Now also available in blue vinyl.
By request we have introduced a side-snap version of our popular vinyl plastic pants. To prevent tearing, the clear or blue vinyl is thicker but still as soft, silent and comfortable to wear. The high waist and the wide 8 mm elastic make these pants suitable for use over both dispsable briefs and our terry-towelling nappies.
Waterproof pants for use with large pads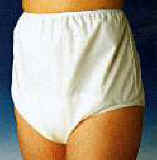 MPP
Our long-life pants are recommended for customers who need to wear waterproof pants for long periods of time. They are manufactured from long lasting top quality super soft vinyl which is very comfortable and completely silent when worn. The leg and waist openings are fully bound with cotton elastic for additional comfort and the crotch is wider than our standard waterproof plastic pants.
Our long-life pants are unlined and are designed to be worn as additional protection over washable underwear containing pads, our terry towelling pants or disposable nappies and pads. If you intend using these with nappies (diapers) we recommend that you measure your hip size over your diaper and select the required size from the table below.